A World of Pain Can Cascade From Your Jaw
The Age | 9 June 2017, page 27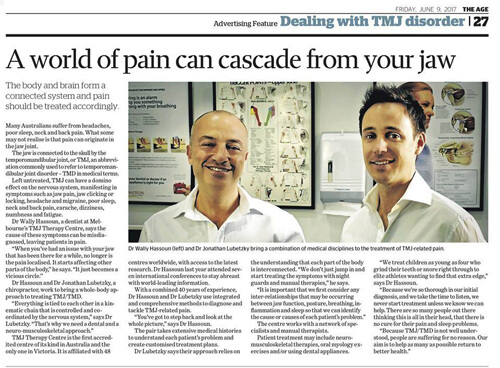 The body and brain form a connected system and pain should be treated accordingly.
Many Australians suffer from headaches, poor sleep, neck and back pain. What some may not realise is that pain can originate in the jaw joint. The jaw is connected to the skull by the temporomandibular joint, or TMJ, an abbreviation commonly used to refer to temporomandibular joint disorder – TMD in medical terms.
Left untreated, TMJ can have a domino effect on the nervous system, manifesting in symptoms such as jaw pain, jaw clicking or locking, headache and migraine, poor sleep, neck and back pain, earache, dizziness, numbness and fatigue.
Dr Wally Hassoun, a dentist at Melbourne's TMJ Therapy Centre, says the cause of these symptoms can be misdiagnosed, leaving patients in pain.
"When you've had an issue with your jaw that has been there for a while, no longer is the pain localised. It starts affecting other parts of the body," he says. "It just becomes a vicious circle."
Dr Hassoun and Dr Jonathan Lubetzky, a chiropractor, work to bring a whole-body approach to treating TMJ/TMD.
"Everything is tied to each other in a kinematic chain that is controlled and co-ordinated by the nervous system," says Dr Lubetzky. "That's why we need a dental and a neuro-musculoskeletal approach."
TMJ Therapy Centre is the first accredited centre of its kind in Australia and the only one in Victoria. It is affiliated with 48 centres worldwide, with access to the latest research. Dr Hassoun last year attended seven international conferences to stay abreast with world-leading information.
With a combined 40 years of experience, Dr Hassoun and Dr Lubetzky use integrated and comprehensive methods to diagnose and tackle TMJ-related pain.
"You've got to step back and look at the whole picture," says Dr Hassoun.
The pair takes extensive medical histories to understand each patient's problem and create customised treatment plans. Dr Lubetzky says their approach relies on the understanding that each part of the body is interconnected. "We don't just jump in and start treating the symptoms with night guards and manual therapies," he says.
"It is important that we first consider any inter-relationships that may be occurring between jaw function, posture, breathing, inflammation and sleep so that we can identify the cause or causes of each patient's problem."
The centre works with a network of specialists and manual therapists. Patient treatment may include neuromusculoskeletal therapies, oral myology exercises and/or using dental appliances.
"We treat children as young as four who grind their teeth or snore right through to elite athletes wanting to find that extra edge," says Dr Hassoun.
"Because we're so thorough in our initial diagnosis, and we take the time to listen, we never start treatment unless we know we can help. There are so many people out there thinking this is all in their head, that there is no cure for their pain and sleep problems.
"Because TMJ/TMD is not well understood, people are suffering for no reason. Our aim is to help as many as possible return to better health."

TMJ Therapy Centre | (03) 9804 7454