Performance Mouthguards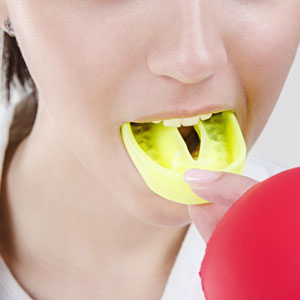 Olympic, professional and college-level athletes have discovered an edge over the competition that you may not have considered before: performance mouthwear. At TMJ Therapy Centre, we can provide you with a broad range of services, including performance mouthwear to help you up your game.
Mouthguards have been used for years by athletes who want to have an extra measure of protection while engaging in a contact sport such as football, rugby, lacrosse, wrestling or martial arts.
These athletes can benefit from performance mouthwear, too, in addition to those participating in baseball, tennis, golf, running, cycling and more.
The Effects of Clenching
In times of stress or anxiety, you may recognise that you're clenching or grinding your teeth, even during the daytime hours. You may also do so at night while you sleep. We can provide custom-made splints that you can wear during the night to alleviate clenching or grinding. If you require an extra measure of help, performance mouthwear may be ideal for you.
When you clench your teeth, you aren't just risking damaging a tooth. Your breathing, posture, airway and sleep are affected, too. If you're interested in improving your performance or are concerned about grinding and clenching, we'll be happy to speak with you about whether performance mouthwear can assist you.
What to Expect
Our performance mouthwear pieces aren't like the ones in the kits you can buy at the chemist. They're created based off of impressions that we take of your mouth and will have the thickness that's appropriate for your particular sport. It will be comfortable to wear, relieving pressure on your jaw and reducing your chance of injury to your head, mouth and jaw. After it's fabricated in our laboratory, it'll be sent back to our clinic, where you can pick it up and start wearing it during practice or matches.
Want to Learn More?
Contact us today to book a consultation to discuss performance mouthwear Toorak! Same-day appointments are available.

Custom Mouthguards Toorak, Prahran, Melbourne VIC | (03) 9804 7454