When Poor Sleep Turns Life into a Nightmare
The Age – theage.com.au | 09 July 2017, page 20. Solve Your Sleep Problem.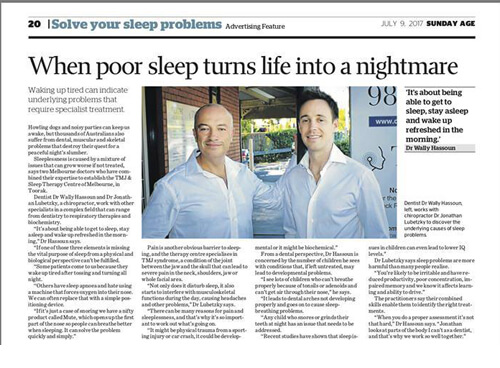 Waking up tired can indicate underlying problems that require specialist treatment. Howling dogs and noisy parties can keep us awake, but thousands of Australians also suffer from dental, muscular and skeletal problems that destroy their quest for a peaceful night's slumber.
Sleeplessness is caused by a mixture of issues that can grow worse if not treated, says two Melbourne doctors who have combined their expertise to establish the TMJ & Sleep Therapy Centre of Melbourne, in Toorak.
Dentist Dr Wally Hassoun and Dr Jonathan Lubetzky, a chiropractor, work with other specialists in a complex field that can range from dentistry to respiratory therapies and biochemistry.
"It's about being able to get to sleep, stay asleep and wake up refreshed in the morning," Dr Wally Hassoun says.
"If one of those three elements is missing the vital purpose of sleep from a physical and biological perspective can't be fulfilled. Some patients come to us because they wake up tired after tossing and turning all night. 'Others have sleep apnoea and hate using a machine that forces oxygen into their nose. We can often replace that with a simple positioning device. If it's just a case of snoring we have a nifty product called Mute, which opens up the first part of the nose so people can breathe better when sleeping. It can solve the problem quickly and simply."
Pain is another obvious barrier to sleeping, and the therapy centre specialises in TMJ syndrome, a condition of the joint between the jaw and the skull that can lead to severe pain in the neck, shoulders, jaw or whole facial area.
"Not only does it disturb sleep, it also starts to interfere with musculoskeletal functions during the day, causing headaches and other problems," Dr Lubetzky says.
"There can be many reasons for pain and sleeplessness, and that's why it's so important to work out what's going on. It might be physical trauma from a sporting injury or car crash, it could be developmental or it might be biochemical."
From a dental perspective, Dr Hassoun is concerned by the number of children he sees with conditions that, if left untreated, may lead to developmental problems.
"I see lots of children who can't breathe properly because of tonsils or adenoids and can't get air through their nose," he says. "It leads to dental arches not developing properly and goes on to cause sleep-breathing problems. Any child who snores or grinds their teeth at night has an issue that needs to be addressed. Recent studies have shown that sleep issues children can even lead to lower IQ levels."
Dr Lubetzky says sleep problems are more harmful than many people realise.
"You're likely to be irritable and have reduced productivity, poor concentration, impaired memory and we know it affects learning and ability to drive."
The practitioners say their combined skills enable them to identify the right treatments.
"When you do a proper assessment it's not that hard," Dr Hassoun says. "Jonathan looks at parts of the body I can't as a dentist, and that's why we work so well together." — at TMJ Therapy Centre.

TMJ Therapy Centre | (03) 9804 7454