Headaches and Migraines in Melbourne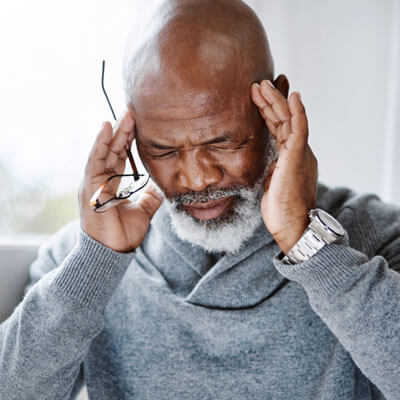 Do you suffer through frequent headaches? Maybe you're even plagued by debilitating migraines that make you sideline your life for hours or days at a time. Many people who try to ignore this type of pain are surprised to find out that there's a connection to their jaw. At TMJ Therapy Centre in Melbourne, we provide an integrated, full body approach to get to the source of your concerns and help you resolve your problem.
The Relation to Your Jaw Joint
Your temporomandibular joint (TMJ), or jaw joint, can be found on both sides of your face, just in front of your ears. A dysfunction in this joint is referred to as TMD, or temporomandibular joint disorder.
NEW PATIENTS

The symptoms you might experience if you have TMD are numerous, such as:
Chronic headaches
Clicking and popping in the jaw
Difficulty chewing
Ear pain
Tinnitus (ringing in ears)
Facial swelling
Jaw and facial pain
Lockjaw
Neck and shoulder pain
Finding the Cause
There is no singular cause of TMJ-related issues. They can worsen in times of stress and may have a genetic connection. If you clench or grind your teeth at night, there is a high likelihood that you will have TMD. We'll get you the answers you seek after a comprehensive examination. Once completed, we can give you an accurate diagnosis and prescribe the appropriate treatment that will resolve your issue.
At our clinic, you'll find the complete solutions that you require to restore your wellbeing. Our practitioners will work together to ensure that your symptoms start to reduce as quickly as possible; working closely with you we resolve your headaches, migraines and pain Melbourne.
Don't Delay – Contact Our Team Today!
If you've been trying to put up with the pain of headaches, migraines and problems with your jaw joint, we may have the answer for you. Call or email our clinic today to book a consultation and learn about what we can do to assist you!
CONTACT US

Headache & Migraine Treatment Melbourne, Prahran, Toorak VIC | (03) 9804 7454