Meet Our Staff
Dara, Dental Hygienist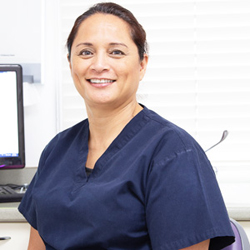 Dara joins the TMJ Therapy Centre team with a degree in Dental Hygiene from the Oregon Institute of Technology in the USA. In addition, she's completed courses in TMJ therapy, Myology and airway and sleep issues.
Dara has always been interested in working closely with people and knew she wanted to be involved in improving or assisting in their health, making dentistry a perfect fit. Her favourite part about working at our practice is helping patients achieve their oral health goals.
Outside of the practice, she enjoys spending time with her husband and two sons who are very active in local sports. She also loves to cook.

Samantha, Dental Assistant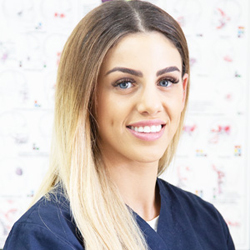 Samantha completed her certificate III in dental assisting at RMIT university in 2013. Samantha has worked across dental practices for the past 7 years with a wide variety of practitioners and patients.
Samantha enjoys in listening to patients needs while having a particular interest in working with our TMD patients and patients going through Oral Facial Myology.
Samantha has been part of this team for the past 5 years and treats this practice like her own.


Tabitha, Dental Nurse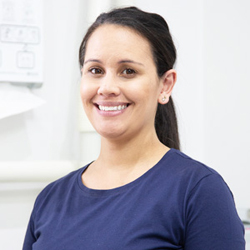 At TMJ Therapy Centre, Tabitha enjoys seeing patients go from being anxious or in pain to walking confidently into their next appointment. Holding qualifications as a dental nurse, she has also completed courses in TMJ Therapy and Oral Facial myofunctional therapy.
Tabitha believes that teeth aren't just vital to your oral health, which is what she stresses to patients—proper oral health equals improved overall health!
When she isn't helping create beautiful, healthy smiles in the practice, she enjoys spending time with her sons and watching them participate in local basketball games.

Fadia Hassoun, Practice Administrator
We're thrilled to have Fadia as our Practice Administrator. Fadia has years of experience working with our team.
At TMJ Therapy Centre. Fadia's favourite thing is working in an environment that places such a strong emphasis on family. It's incredibly rewarding to her to know that each and every client that joins us for care is receiving the highest quality treatment.
When she isn't at the practice, she enjoys spending time with her family, baking and reading or listening to music.


Pip, Practice Manager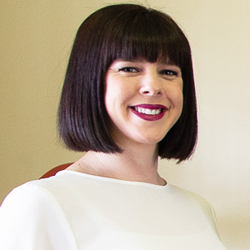 Pip joins the TMJ Therapy Centre team after completing her Certificate in Dental Assisting as well as obtaining a Diploma in Performing Arts. Interested in the dentistry field since a young age, she's always been fascinated about the biology of our teeth and how they serve us from childhood to old age as well as how oral health impacts overall health.
At the practice, she works to help patients understand how they can achieve better health, starting with their mouths. It's a great day at work for Pip when she's able to help someone fall in love with their smile all over again!
Outside of the practice, Pip enjoys exploring the wilderness, going to concerts and spending time with friends and family in New Zealand.


Ameena, Practice Coordinator
Ameena joins our team with an Advanced Diploma in Accounting as well as an Advanced Diploma in Practice Management. Her favourite part about working with our team and patients is the ability to significantly impact a person's smile and confidence.
Ameena enjoys helping to create a well-cultured practice that runs smoothly and provides incredible treatments for patients of all ages.
Outside of the practice, Ameena enjoys spending time with her family and friends, travelling and trying new restaurants in Melbourne.

TMJ Therapy Centre | (03) 9804 7454